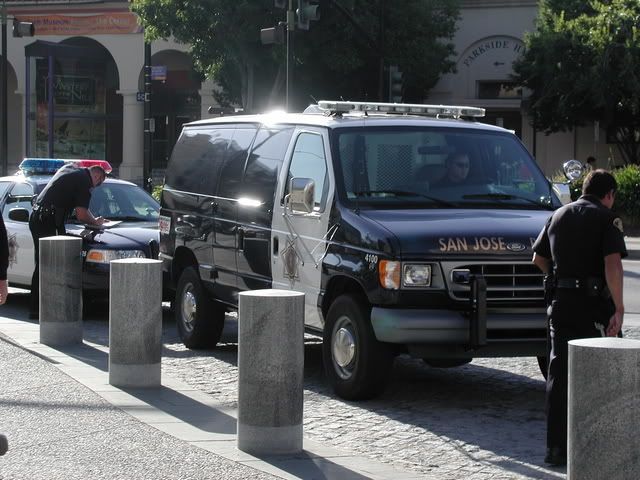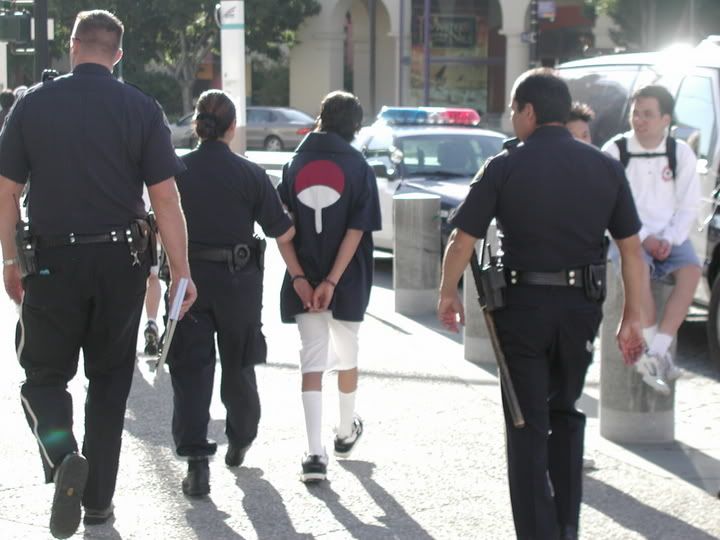 As taken from the CatsOnMars forums:

While "The /b/-tards" may not exactly be bastions of journalistic integrity, the report was this "Narutard" got busted for shoplifting in the Dealer's Room. But why, oh why, is he getting the extra emphasis from the SJPD in this anonymous digicam shot? According to accounts, this guy cast "Dipshit-no-Jutsu" and decided to come BACK to the SJCC (IIRC, the standard practice at cons is that if you try to jack merchandise from the dealer's room, that's a "Get Out Of Here & Don't Come Back" kind of offense as far as the convention is concerned) and thus committed the crime of "Criminal Trespass".

*Futher into the thread*

Umm.. i heard "rumors" that said person jacked from a booth, got caught, was told to leave after his badge was pulled; ran as they tried to escort him off the grounds; Changed clothes; went back to reg and reported a "lost badge" and got a new one; Was seen back in the dealers room in under 2 hours.

Was then cornered, and escorted off grounds by said police;

I also heard "rumors" of said person's parents leaving him to rot in JU-V

Also heard "rumors" of said person being worried about his cosplay when they were searching him.